Gabrielle Barzaghi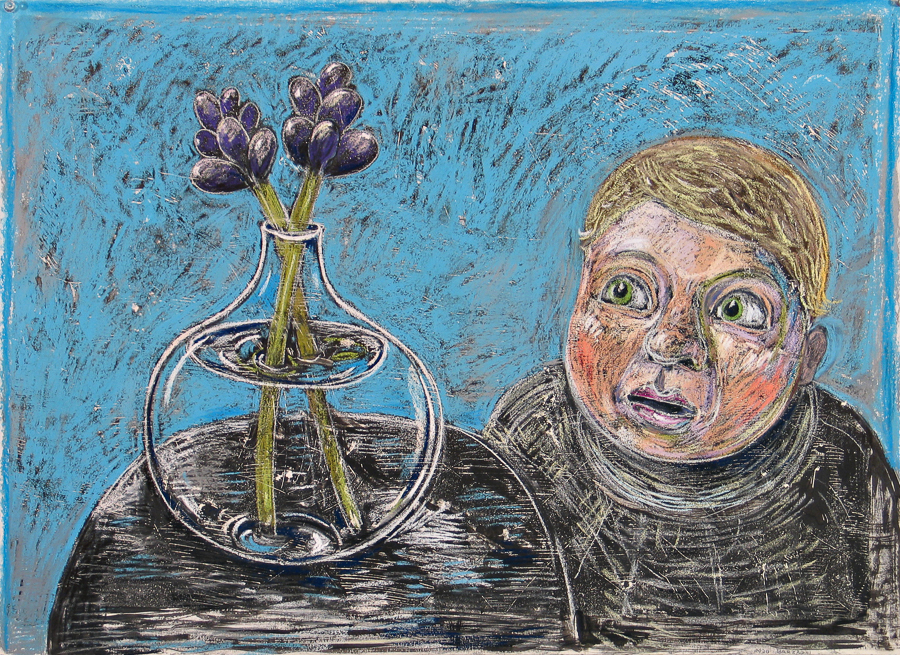 Barzaghi's drawings begin with a story, object, scene, or work of art which captures her imagination. While they remain fundamentally an essay in the practice of drawing led by the hand and eye, her drawings become a remarkable record of a chapter of creative discovery, taking shape from the ideas, narratives, and passions of the mind and heart — the serendipitous influences, as the drawing develops, of personal experiences, sociopolitical realities, and the histories of literature and visual art.
Beginning with intention and developed with intuition, Barzaghi's creative process embraces difficulties, risks failure, runs headlong into self-doubt, and weathers the capriciousness of creative inspiration. Progress is uncertain and anxious, as we learn from Charles Giuliano's illuminating interview and from Barzaghi's candid remarks in a talk in 2017. The drawings which make it to gallery walls are inspired, surprising, unequivocally original works of art, which hold three elements in a rare balance: a political edge, mythic transcendence, and an insistence on their own materiality. They shelter mystery within harmony and reveal the entanglement of beauty and understanding.
Barzaghi employs a wide variety of media and drawing techniques, but pastels on paper are principal. Her work is in the permanent collections of the Cape Ann Museum and the deCordova Museum, and it has been shown at the Museum of Fine Arts, Boston; the Currier Museum of Art (Manchester NH); and the Fuller Museum of Art (now the Fuller Craft Museum, Brockton MA).
Barzaghi attended the School of the Museum of Fine Arts, Boston, and after living and working in Boston's artists' lofts, she moved to Gloucester in the mid-1990s. She taught drawing at the New England School of Art and Design at Suffolk University for over thirty years and now works full time in her studio.
Videos
Past Solo Exhibitions with Matthew Swift Gallery
Past Group Exhibitions with Matthew Swift Gallery
Old News