The Deep Sea Has its Stars
September 3, 2016

–

September 5, 2016
Gloucester·Center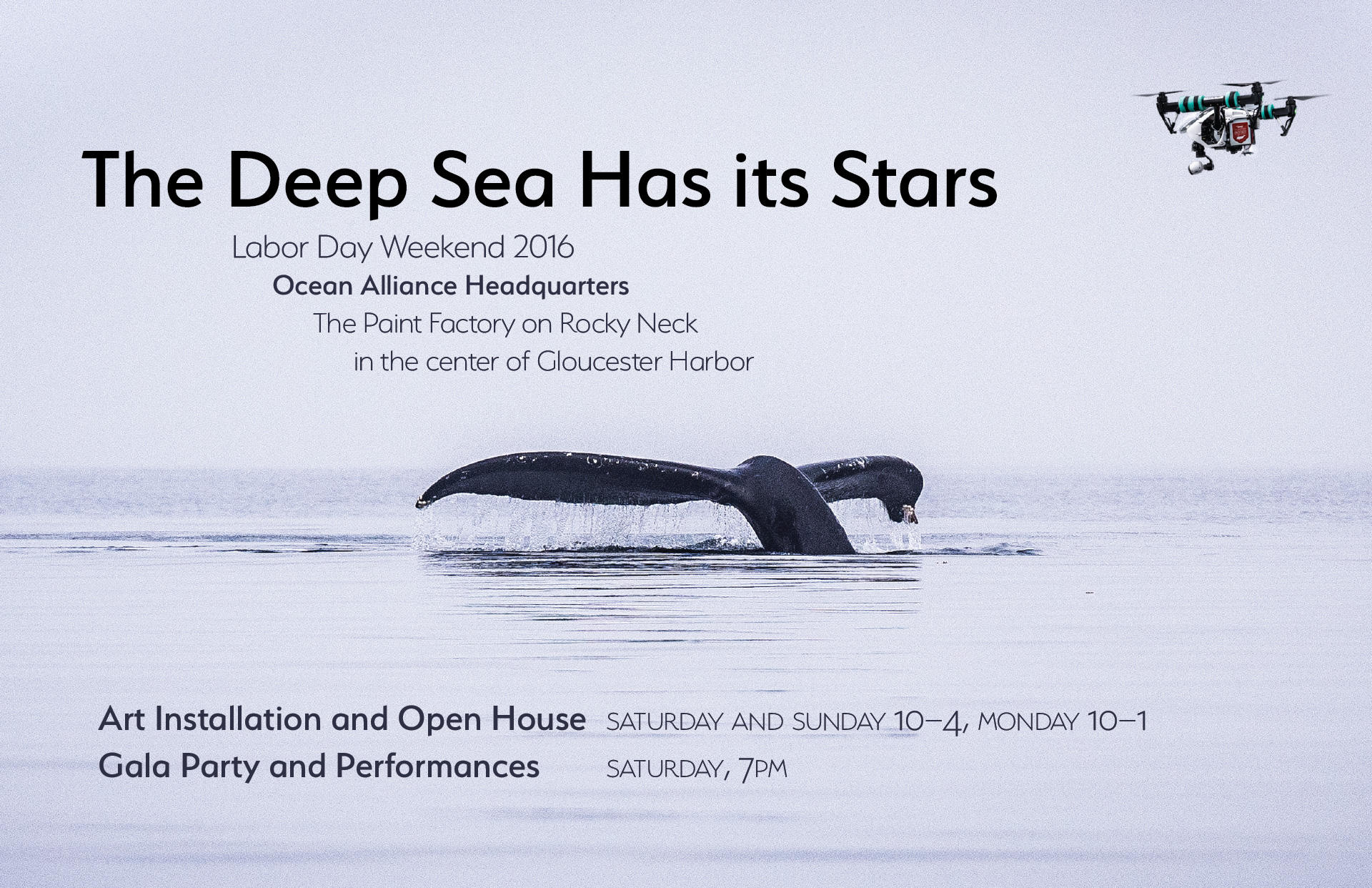 is a joint project of Ocean Alliance and Trident Gallery to foster creative interchange among artists, scientists, and the public through programs at the iconic Tarr & Wonson Paint Factory, a place at the center of Gloucester Harbor and of Gloucester's history of excellence in the arts and sciences.
On Labor Day Weekend, 2016, as the city celebrates its maritime heritage during the Schooner Festival, Gloucester·Center will produce "The Deep Sea Has its Stars," an inaugural event of art installation and performance.
Full information about the events and the concept is available at the Gloucester·Center web site at http://Gloucester.Center.
Producers
Visual Artists
Performing Artists
See below for short bios.
---
Emily Beattie
Emily Beattie is a Somerville based dance artist, experimental choreographer, and educator melding performance, interactive media, and film. She is an accomplished performer and her collaborative works have been supported nationally and internationally. This year Emily will be teaching at Endicott College and Walnut Hill School for the Arts as well as finishing an interactive dance experience with designer Eric Gunther and an immersive solo about an orca whale with wild artist cari ann shim sham. emilybeattie.com
---
Alexandra Berger
A Brooklyn-based freelance dancer, Alexandra Berger has had the privilege of working with, among others, Pat Catterson, Merce Cunningham (RUG 2007), Douglas Dunn, Roz Newman, Dusan Tynek Dance Theatre (Founding member & Artistic Associate), and Matthew Westerby. Alexandra holds a BFA from The New School.
---
Andy Bergman
Andy Bergman is a multi-instrumentalist, composer, and recording artist who plays clarinet, saxophones, and a variety of other woodwind and percussion instruments. His playing is grounded in classical technique and his musicality informed by years of work with a wide range of ensembles: from orchestras and theater pits to bands playing afrobeat, soul, rock, folk, reggae, and jazz. Andy's growing list of credits includes appearances at the Chicago World Music Festival, Oslo World Music Festival, Festival Mawazine (Morocco), Cully Jazz Festival (Switzerland), Ashkenaz Festival (Toronto), Philadelphia Folk Festival, Boston Celebrity Series, and many other venues across North America and Europe. andybergman.com
---
Kristen Miller
Kristen Miller uses her cello and improvisatory skills to tell sound-stories of life, people, and places where words leave off. She enjoys using new and old technology and techniques to perform live, as well as recording in the studio on hundreds of projects of both solo and collaborative work. Kristen's favorite new project is exploring far reaches of sound, melody, and spaces with dancer Sarah Slifer Swift. kristenmillermusic.com
---
Sarah Slifer Swift
Gloucester-based Sarah Slifer Swift is a dance artist and producer of experimental performance projects as Director of the Trident Live Art Series. Her choreographic work is informed and inspired by inter-media collaboration and site-specific environment, and has been recognized by several grants and Fellowships. She teaches dance in the Gloucester Public School System through support from the Gloucester Education Foundation, and also at The Boston Ballet School.