Sharon Beals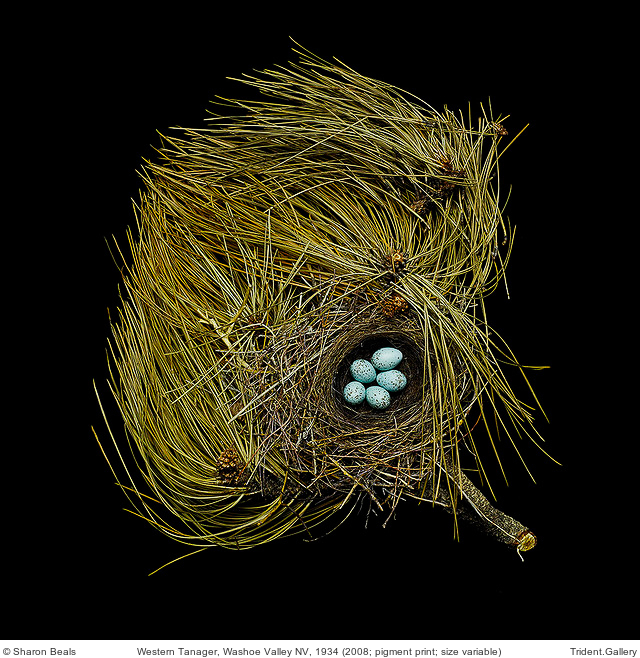 Sharon Beals is the author and photographer of Nests: Fifty Nests and the Birds that Built Them. The Nest Series documents nest and eggs specimens dating from the 1800's to present day from The California Academy of Sciences, the Museum of Vertebrate Zoology in Berkeley, the Western Foundation of Vertebrate Zoology in Camarillo, CA, Cornell University Museum of Vertebrates, and the National Museum of Natural History at the Smithsonian. She is currently photographing the nests of extinct and endangered birds.
Besides the nests, she photographs wild native habitats and water sheds, and constructs photograms of beach plastic to make large scale, deceptively beautiful yet confrontational images.
Current & Planned
Past Group Exhibitions with Matthew Swift Gallery
In With The New
January 26, 2018
–
March 25, 2018
An exhibition of new, unseen, and selected works of art by represented artists.
AD20/21 2016
April 7, 2016
–
April 10, 2016
Trident Gallery showed works on paper by four represented artists at the 2016
AD20/21
art fair.
NEST
January 30, 2016
–
March 6, 2016
This year's partnership with the Museum of American Bird Art at Mass Audubon explores birds' nests as wondrous natural objects, emblems of shelter, and monuments in the cycle of life and death.