The Red Table of Grief + Other Fine Episodes
March 23, 2019 · 8:00 pm

–

9:00 pm

|

Recurring Event

(See all)

One event on March 23, 2019 at 8:00 pm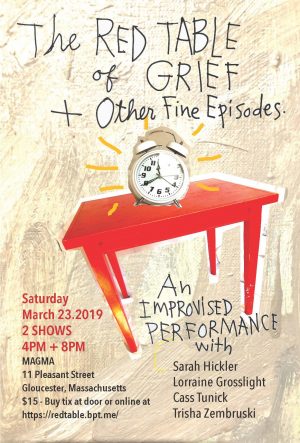 The Trident Live Art Series is pleased to present "The Red Table of Grief + Other Fine Episodes," an improvisational performance by Sarah Hickler, Lorraine Grosslight, Cass Tunick, and Trisha Zembruski. There will be two showings, at 4pm and 8pm.
The four performers have worked together in Action Theater, clowning, and other improvisational collaborations for over 20 years. In the vignettes composing this performance, humor collides with a sense of loss.
The two seatings at 4pm and 8pm will take place at the MAGMA performance center across the street from Trident Gallery. The main entrance is at 11 Pleasant Street, and elevator access is via 192 Main Street. Tickets are $15 at the door or online.
Producer's Note
Though for most of us today, the prototype of a "clown" is a wigged and red-nosed entertainer of children, theatrical clowning is a dramatic tradition as deep as any other in our "western" cultures and others. Medieval jesters, Buster Keaton and Charlie Chaplin, Samuel Beckett's tramps, and the children's entertainers of today are all in one way or another emblems of human folly in which we see our pretensions and ambitions come up against human limitations, weakness, and mortality. A clown "thinks she is in control, but the audience clearly sees she is not. The fun is in the discrepancy."* The dramatic mode of clowning ranges from humorously diverting to profound moral, philosophical, and religious questioning. The best theater operates simultaneously at many levels, and this is what I look forward to in this performance.
Matthew Swift
Biographical Notes
Lorraine Grosslight is a theater artist, painter, and STEM educator. She has practiced, performed, and taught Action Theater, comedy improvisation, and clowning for many years.
Sarah Hickler is a physical theater performer, actor, and director, and a long-time practitioner and teacher of Action Theater. She is the Head of Acting at Emerson College, where she teaches Movement, Action Theater, and Shakespeare.
Cass Tunick is a performer and theater-maker. She teaches Action Theater Improvisation at Emerson College, in communities across the country, and during the summer in Estonia.
Trisha Zembruski is a performer, teacher, and graphic artist. She trained in Action Theater and clowning for a long time. She directs Theater for Kids, a unique program that creates original plays with children.